7 Tips to Winterize Your Home and Save Energy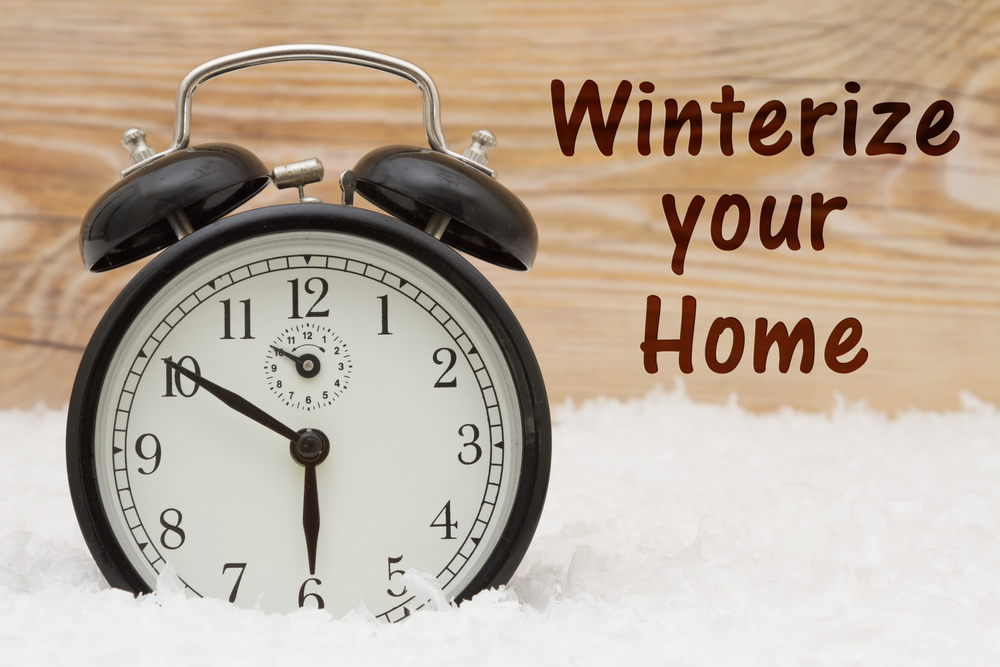 The winter chill is here but it's never too late to work and ward off the cold. Stay warm and cozy despite the frigid temperatures. At the same time, cut down on energy expenses and save money. Here are maintenance tips to help you get started.
1. Conduct roof, gutter, and downspout check. Clear away debris from your gutters to prevent clogs or leaks. Should you notice clogging, don't delay calling help from professionals. Check your flashing too to keep water from entering your home. Missing or damaged roof shingles should be replaced as well.
2. Seal leaks by weather stripping and caulking. According to the U.S. Department of Energy, potential energy savings that homes may enjoy from sealing air leaks can range from 5% to 30% a year. Warm air sneaking out of your home in the winter can result in wasted energy. That said, be sure to inspect areas of your home where two different materials cross paths. This includes your ceilings, windows, doors, walls, floors, fireplaces, chimneys, and piping. Weather strip or caulk to seal off leaks.
3. Insulate pipes. Freezing pipes can spell disaster. Prevent this from happening by insulating your pipes. You can use items available at hardware stores near you such as foam jackets. Just be sure to follow manufacturer instructions. If you have questions or are unsure how to use a particular product or equipment, call in professionals for further assistance.
4. Weatherproof windows and doors. Don't let heat escape through your windows. Keep your home warm by installing double-pane windows. This will help make your living spaces feel more comfortable and also reduce your energy bill. If your window glass is cracked, it's best to have it replaced. Now is also the time to install those storm windows should you have any. If you have a basement, you might want to cover your window wells with plastic shields. When properly installed, this plastic can help improve your home's ability to retain heat.
5. Check your chimney and fireplace. Invest in a chimney cap to cover the top of your chimney. This will help keep critters, which are also looking for a warm place to stay in, away from your home. In case it's been a while since you had your chimney cleaned, consider hiring a professional to get rid of the soot. If you're using wood for your fireplace, be sure it's stored away from your home and in a dry place. A woodpile is an attractive hideout for wildlife intruders and may also cause fire hazards.
6. Tune up heating system. Ensure your furnace and ducts are in good condition. Keep them clean and lubricated to help lower energy consumption. Do stock up on furnace filters and don't forget to replace once a month. Dirty filters limit airflow, which in turn increases required energy. Consider calling in technicians too for a professional tune-up service. For more energy savings, ditch your old thermostat for a programmable type. This way, you can avoid forgetting to turn down the heat when you leave the house.
7. Choose a state licensed residential contractor. If you're looking for a residential contractor to take care of your repair needs for the winter season, choose a company that's duly licensed. Professional technicians will help you find ways to keep your home energy-efficient. In case you're planning a major home renovation project soon, you can also coordinate with the team so that minor fixes today will no longer have to be redone.
Get Your Home Ready for the Winter
Since you're bound to spend long hours indoors to escape the icy cold weather, it's only fitting to prepare your home. Take note of these quick home fixes and maintenance tips; avoid potential budget and safety issues.
If you need a residential contractor in Cumming, GA to help you as you winterize your home, call Douglas Residential Renovations at (404) 483-3544. We'll get the project done on time and to your satisfaction.